Lithuania says Russia reopens Soviet conscript cases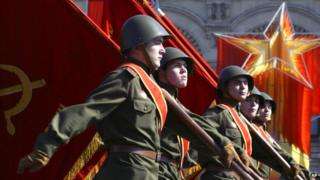 Russia appears to be reopening criminal investigations against Lithuanians who refused to serve in the Soviet armed forces after the country declared independence nearly 25 years ago.
The Lithuanian prosecutor-general's office says Russia has asked for legal assistance over Lithuanians who defied orders to do their Soviet military service in 1990-91, the Delfi news portal reports. But the request was denied, a spokeswoman says, since it does not involve a criminal offence in Lithuania. The news has prompted Lithuanian security services to strongly advise the relevant people not to go to Russia or other non-EU and non-Nato countries for now. Doing so could "jeopardise the personal safety of citizens", they say.
After Lithuania declared independence from the USSR in March 1990, more than 1,500 young men obeyed a call from pro-independence leaders not to join the Soviet military, according to official figures. Almost everyone went into hiding, but dozens of people were jailed or forcibly drafted. Outstanding cases were dropped after the USSR's collapse.
There is reportedly rising concern among Lithuanians that Russia is adopting a more assertive stance towards former Soviet countries. Adding to the tensions, a Russian national was arrested in March in Lithuania in connection with the 1991 attack by Soviet forces on the Vilnius TV tower, in which 14 people died.
Use #NewsfromElsewhere to stay up-to-date with our reports via Twitter.