Russian fish company sues against food sanctions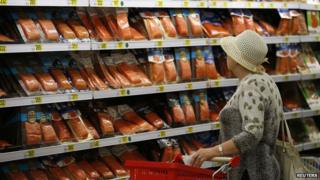 A Russian fish-processing firm has filed a lawsuit against sanctions brought in by its government, saying the ban on Western food imports is ruining its business.
Murmansk Fish Combine, based in the Arctic port of Murmansk says it relies on shipments of fresh fish from Norway and has been forced to halt production because of the ban, the Russian news agency Itar-Tass reports. The company wants the Russian supreme court to say the measure, which came into effect in August, is partly illegal.
"If the sanctions aren't lifted soon it's possible we'll no longer be able to resume business," director Mikhail Zub says, adding the court should at least make sure the live fish his business needs are excluded from the sanctions list.
But local prosecutors in Murmansk have already inspected the factory and declared the plant doesn't really have to stop work, Russian news agency Interfax says.
In early August, the Russian government banned a range of food imports from countries that have placed sanctions on Moscow over the Ukraine crisis. The move was designed to hurt food producers in the West, but it's also hit Russian consumers - prices for frozen fish and other food in Moscow's major supermarkets are reportedly up by 6%.
Use #NewsfromElsewhere to stay up-to-date with our reports via Twitter.