Canada: Air force raids museum for spare plane parts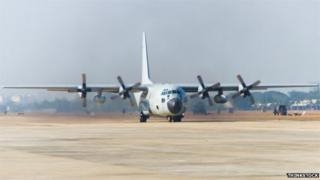 Canada's air force has had to take spare parts from a museum to keep its search-and-rescue aircraft flying, after government promises to buy new planes never materialised, it's been reported.
Technicians from the Royal Canadian Air Force went to a military base museum in Trenton, Ontario in 2012 to find navigational equipment for a similar aircraft that's still in use, The Ottawa Citizen reports. They got the part from an E-model C-130 Hercules airplane on display, after getting permission from the museum.
"They sort of called up and said, 'Hey, we have these two INUs (inertial navigation units) that we can't use. Do you have any on yours?'" museum curator Kevin Windsor recalls. He says they were lucky the parts were available and interchangeable, and took only half an hour to remove.
The former head of military procurement, Dan Ross, says it's embarrassing that the air force has to "cannibalize old stuff that's in museums" to keep up its rescue planes - eight Hercules and six Buffaloes - which are apparently on their last wings. The planes respond to thousands of emergencies every year. The government has been promising since 2002 to replace the planes, but has kept putting it off to make sure it's "getting the purchase right", the Citizen says.
Use #NewsfromElsewhere to stay up-to-date with our reports via Twitter.