Lithuania: Pothole problem mocked in comic photo shoot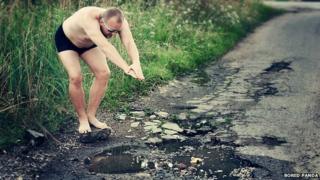 A group of friends fed up with the state of disrepair on Lithuanian roads have banded together in a comic photo project to highlight the pothole problem in the country's second largest city, Kaunas.
The series of spoof photographs made for the offbeat Bored Panda blog plays on the idea that potholes are big enough to be mistaken for swimming pools, streams or even lakes. The gallery features people in swimming trunks preparing to dive in to crater-like road cracks, while others are fishing, washing their teeth or romantically gazing at the stars, cuddling each other next to a street puddle.
The Z999, which describes itself on Facebook as a "legendary outdoor group", says the aim of the project is "to laugh at the absurdity of this situation" while prompting the government to take action.
Road safety is a big issue in Lithuania. In 2013, local media lamented that the country ranked first in the EU for fatal casualties caused by traffic accidents. The rate of 100 victims per one million people is almost double the EU average of 55.
Use #NewsfromElsewhere to stay up-to-date with our reports via Twitter.