Japan: The rising popularity of old dog care centres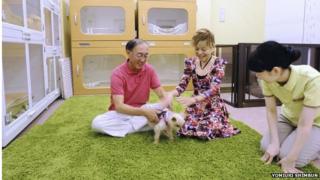 Care centres for old dogs are springing up around Japan, apparently after changes to animal protection laws said pets should be properly taken care of until they die.
Kiyomi Yamada says she's placed her 13-year-old Yorkshire terrier in one such centre because the dog needs a lot of care, and she also has to look after ageing in-laws at home, The Japan News explains. "It was a hard decision, but I'm relieved to see him again," Kiyomi says, adding it's the first time she's seen her dog since he arrived at the centre two weeks ago. "He looks better than before," she adds.
Local councils used to take in dogs and cats from owners who couldn't take care of them any more. But pet homes seem to be hugely popular, with some places charging up to ¥200,000 ($1,860; £1,148) a month for looking after your favourite animal. Owners can even check up on their pets any time they like - including from their tablets or smartphones during the afternoon.
At nearly 22 million, in Japan cats and dogs now outnumber children under the age of 15, says the Tokyo Weekender, and in 2012 one in four Japanese homes had either a pet. Restaurant owners are also trying to cash in on the pet boom, with hundreds of eateries now letting pets to dine alongside their owners.
Use #NewsfromElsewhere to stay up-to-date with our reports via Twitter.