Italian separatists mix up Edinburgh with two other cities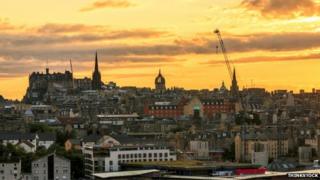 Italy's separatist Northern League says it feels close to Scotland's independence campaigners - but apparently not close enough to get their capital city right.
The political party said on Thursday that Councillor Angelo Ciocca would go with youth members to witness the referendum results in Scotland's capital - Hamburg. But Hamburg's in Germany. Someone must have had a word so they corrected it to Strasbourg, only Strasbourg's in France. At the third attempt they finally got it right with Edinburgh - but that wasn't fast enough to escape mockery in the Italian media.
The Wake Up News site prints the three statements and a selection of social media quips. "The League confuses Edinburgh and Hamburg," jokes one Twitter user. "At the third attempt they ordered two burgers for Queen Elizabeth." While another user tweets: "How about a trip to Fribourg too?"
Il Giornale newspaper was particularly withering, suggesting that Ciocca was looking forward to "the sounds of Gaelic replacing English at midnight" as the delegation celebrated "with their fellow Celts". The paper wasn't sure if senior League MEP Matteo Salvini went on the trip: "Perhaps he waited to find out where the heck the plane was going to land".
But that wasn't the League's only gaffe. They put on special T-shirts emblazoned with the Scottish Saltire flag and a Northern League emblem as an expression of unity. But the League's chosen symbol on this occasion is the Cross of St George - also the flag of England.
Use #NewsfromElsewhere to stay up-to-date with our reports via Twitter.