Turkey runs sacrifice lessons ahead of festival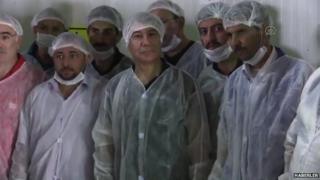 As Turkey gears up for Eid al-Adha, the Muslim Feast of Sacrifice, the government is running courses for the public on how to slaughter animals safely.
The Daily Sabah newspaper says "Turkey has a bad reputation when it comes to slaughtering animals for the feast because ordinary people attempt to slaughter the sheep and cattle themselves, instead of hiring a professional butcher". State-run public education centres are now conducting courses ahead of the 4 October festival to end the phenomenon of "blundering butchers who often end up in hospital emergency wards when a misplaced blow injures them".
The centres will run 40 courses nationwide, covering slaughter, skinning, removal of internal organs, meat storage, hygiene during slaughter and, not least, "first aid in the event of accidental maiming of the amateur butcher", Haberler website says. The courses will also cover the Islamic rules on selection of the sheep and bulls suitable for slaughter and how to divide the meat - a third is traditionally given to the needy. The teachers are professional butchers, Islamic scholars and paramedics, who will conduct the lessons in classrooms and "practicals" in licensed slaughterhouses.
Students are told to pay particular attention to handling knives and cleavers properly, as lost fingers feature regularly in the Turkish media. Other frequent causes of urgent hospital visits are poorly-tethered animals "sensing their impending doom, breaking loose and butting their cleaver-wielding owners", Sabah notes.
Use #NewsfromElsewhere to stay up-to-date with our reports via Twitter.