Japan's The Margarines pop idols aim to sing away debt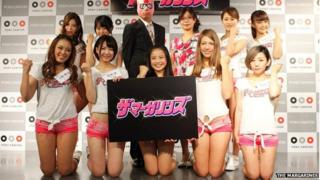 A pop group has been formed in Japan with the aim of "singing and dancing away" its insolvent members' personal debt mountains.
The Margarines say they are becoming "idols" - a manufactured girl band common on the Japanese pop scene - to clear debts of about $1.2m (£700,000) in total, the Japan Times reports. The lion's share belongs to Mami Nishida, 30, who owes about $900,000 after her family's business collapsed. "Tough times bring opportunity," she told the group's first news conference last week. There's also a German member, Marie Christine Krause, 22, who owes $20,000 in tuition fees.
The girls, who are between 19 and 30 years old, were chosen in auditions after the group's formation was announced in July, and will release their first album, Good-bye Debt Heaven, in December. Producer Makkoi Saito thinks the girls' poor finances are a selling point, telling Japan Today that "people with big debt have big dreams". Most Japanese idol groups are subject to strict no-dating clauses, but The Margarines will not be bound by those restrictions, provided they reach a target of selling 10,000 albums.
Use #NewsfromElsewhere to stay up-to-date with our reports via Twitter.