Hajj 'selfie craze' bemuses Islamic clerics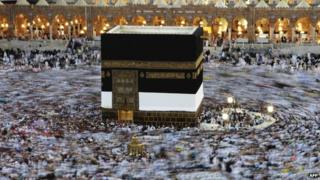 A new fashion for taking a selfie while on pilgrimage to the holy sites of Islam is being greeted with disapproval by some clerics, it has been reported.
A growing number of pilgrims are taking pictures of themselves while on the hajj - the main pilgrimage Muslims seek to perform at least once in their life - and posting it on social media for friends and family at home, according to the Arab News website. Favourite scenes include the key steps of the pilgrimage, such as the ritual walk around the Kaaba in Mecca or trying to kiss the black stone inside. The practice apparently took off after the authorities relaxed a previous ban on camera phones inside the holy sites.
Now several religious scholars have spoken out against "selfie fever" as "touristy behaviour". "Taking such selfies and videos defy the wish of our prophet," Saudi cleric Assim Al-Hakeem says. "It is as though the only purpose of this trip is to take pictures and not worship," another, Abdul Razzaq Al-Badr, grumbles. But some think the chorus of disapproval - even a former grand mufti in Egypt has been critical - is unlikely to have an effect. "So many people have camera phones, it's not easy to stop," one pilgrim says.
Use #NewsfromElsewhere to stay up-to-date with our reports via Twitter.