Korea: Student protesters build crisp packet boat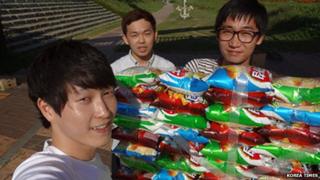 A group of four South Korean friends fed up with crisp packets that seem to contain more air than food decided to take their complaints to the manufacturer in an unusual way - by boat.
"We often feel ripped off when we find out how small the amounts are inside the inflated containers," one of the friends, college student Yoo Sung-ho, tells The Korea Times. To prove their point that there's too much nitrogen gas stuffed into the foil packs, the students built a raft by tying together 160 unopened bags of potato crisps. Then two of them stepped aboard and paddled it for 1.3km (0.62 miles) across the Han River, watched by nearly 200 spectators.
In a satirical video made ahead of their live performance, one of the student explains what drove him to demonstrate: "I bought nitrogen gas, and they gave me free snacks with it," he jokes. The manufacturers say injecting some nitrogen in the bags is necessary to protect the contents. But Korean law stipulates that at least 65% of the bag has to be food content, leaving some people unconvinced that the chip-makers are measuring up to standards.
"When I open a pack of snacks, I am often surprised to see only one third is filled with food," says housewife Choi Jin-ah, who witnessed the stunt. Another admiring onlooker, Bok Jung-hun says, "the event is meaningful. I couldn't find a way to complain about snack packs before."
The students say they never intended to start a boycott, but rather to encourage the chip makers to "laugh along, and listen to consumers' voices". They seem to have made their point. Orion, one of Korea's main confectionery companies, is promising to increase the amount of food in its snack bags - or reduce the size of the bags.
Use #NewsfromElsewhere to stay up-to-date with our reports via Twitter.