Russia: Escaped raccoon prompts two-week chase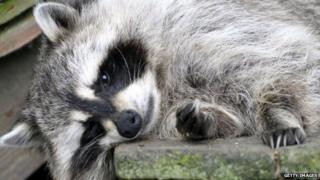 A raccoon which escaped from a touring Russian animal show evaded searchers for two weeks by hiding close to home, it's reported.
"Cheeky" Venya the raccoon outsmarted his handlers by camping out in the very building hosting the "World of Animals" exhibit while a search party scoured the city of Smolensk looking for him, The Moscow Times reports. Meanwhile, food was disappearing in the building and someone appeared to be scattering talcum powder around the place, says the organizer of the exhibit, Alexei. "Raccoons can climb up trees to a height of 30m. They live in burrows and hollows, and at night they come down in search of food. So with Venya, it seems, his natural instincts were awakened," Alexei tells local news outlet Smolenskaya Gazeta. Venya was born and raised in captivity and local reports say he's not capable of surviving in the wild.
Eventually Venya was spotted in a ceiling crack above a movie theatre screen, but refused to come down. "We are now trying to draw him out of his hideaway by offering him sweets. He feels good, although he's a bit stressed," says Alexei. According to the tabloid Komsomolskaya Pravda, Venya isn't the first animal on the run in Smolensk. In 2013, a swan named Gosha ran away from a local park.
Use #NewsfromElsewhere to stay up-to-date with our reports via Twitter.