Kyrgyzstan: Heart surgery performed by torchlight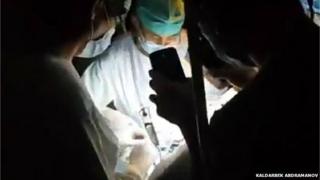 Doctors in Kyrgyzstan have been forced to use handheld torches and lights in their mobile phones to complete heart surgery during a recent power cut, it is reported.
A video of the operation was posted on Facebook by Kaldarbek Abdramanov, the head of a state-run heart clinic in the central Kyrgyz town of Zhalal-Abad, where the incident happened.
"These are the kind of extreme circumstances under which we perform operations on hearts that have stopped beating," he wrote. "I am not sure if it was a crime or an act of heroism," he added. According to Dr Abdramanov, he is now facing a dilemma - continue saving lives on the operating table hoping that lights do not go out, or halting operations in the hope that patients survive until the moment reliable electricity supplies are restored. "How long do we have to wait before proper conditions are created for our work?" he wonders.
Kyrgyzstan, which relies on hydropower heavily, has recently struggled to generate enough electricity due to low water levels in local rivers. Gas shortages in the south have put a further strain on electricity grids. The government has warned of possible blackouts and put restrictions on electricity consumption by both companies and members of the public.
Use #NewsfromElsewhere to stay up-to-date with our reports via Twitter.