Saudi mulls hefty punishment for sexual harassment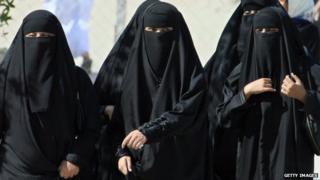 Saudi Arabia is considering hefty fines and jail sentences of up to five years for sexual harassment, it is reported.
Proposals to tighten punishment for unwanted sexual advances follow a surge in the harassment of women at workplaces, streets and shopping malls, says Arab News website.
These proposals are included in a bill that is being considered by the Social Affairs Committee of the Shura Council. It is a consultative body which has the power to propose draft laws, but not approve them. Saudi Arabia is an absolute monarchy where the king has a monopoly of power.
"The law aims at protecting honour and prestige and preventing all types of harassment," Arab News quoted one Shura official as saying. Another way of achieving the same is creating "women-only" workplaces and areas, political analyst Badr al-Muntawa told the website. He pointed to Kingdom Tower in Riyadh and Princess Nora University as examples of such segregation.
Harassment concerns are one reason why women are banned from driving in Saudi Arabia, while the government is considering building separate sections in stadiums for female spectators for similar reasons.
Use #NewsfromElsewhere to stay up-to-date with our reports via Twitter.