Turks shave off beards to avoid 'jihadist stigma'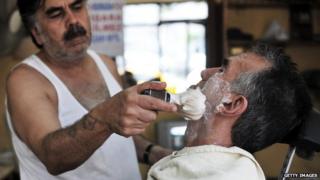 Barbers in a south-eastern Turkish city are doing a roaring trade shaving off the beards of men worried about being labelled jihadists, it is reported.
The bearded men in Diyarbakir got particularly worried about their looks after reported violent clashes between members of the city's sizeable Kurdish community and Islamists.
The Kurds took to the streets enraged by what they saw as the government's lack of action against jihadists in Syria.
These protests soon turned violent. Angry crowds targeted men with bushy beards, accusing them of jihadism just because of their facial hair, Turkey's newspaper Milliyet says. The violence saw "hundreds" rushing to barbers to get rid of their beards, the paper adds.
Barbers reportedly said that they sometimes got up to 15 customers a day wanting to be clean-shaven. "Some people who have nothing to do with Islamic State or Hezbollah were victimised during the protests because of their beards," one said. "People now come to us either to shave their beards off or redesign their shape."
Another barber in Diyarbakir said that previously, he had been shaving off just three or four beards a day on average. "I've been doing this job for 15 years and I've never before shaved so many," he said.
Turkey's Kurds want Ankara to provide assistance to Kurdish fighters battling Islamic State (IS) jihadists who are trying to take the Syrian border town of Kobane.
Use #NewsfromElsewhere to stay up-to-date with our reports via Twitter.