Vietnam thief confesses to nabbing 200 dogs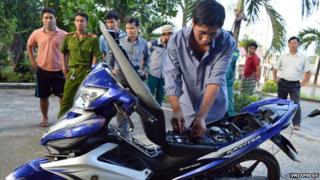 A man in Vietnam has confessed to stealing 200 dogs over the past seven months with the help of a stun gun, according to police in Ho Chi Minh City.
Police and locals in District 9 of the city caught Pham Thanh Binh after he crashed his motorbike fleeing the scene of a crime, VnExpress news website reports. An accomplice escaped on foot. Binh, who moved to the city from rural Binh Thuan, told police he fell in with a gang of dog thieves after failing to find work on building sites. The gang fashioned homemade guns from wooden stocks. The aim was to kill the animals and sell them to restaurants, as dog is considered a delicacy by some in Vietnam.
The police say unscrupulous restaurateurs will pay 100,000-200,000 dong ($5-10; £3-6) per dog, no questions asked, and demand is fuelling a relatively risk-free crime. Only theft of property worth at least two million dong incurs criminal charges, and dog-stealing usually only leads to a fine. As a result angry dog-owners sometimes resort to "vigilante violence" when they catch a thief, VnExpress says. It cites several cases in recent years of mobs nearly lynching thieves, and criminals responding in kind by arming themselves with crowbars to deter the police and public.
Use #NewsfromElsewhere to stay up-to-date with our reports via Twitter.