Outstanding Saudi teachers to get cars and cash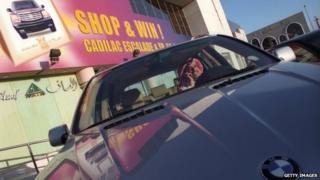 The Saudi Ministry of Education plans to reward "outstanding educators" with luxury cars like BMWs, as well as large cash sums.
Riyadh says the bonuses don't just apply to classroom teachers, but also to school heads and educational advisers. Top students are also eligible for awards, the Arab News paper reports, although they are unlikely to get fast cars or sums of $2,665-$32,000 (£1,673-£20,086) like their tutors.
The ministry says the aim is to "encourage excellence in the teaching profession", adding that its panel has already decided on a number of winners for this year. "This confirms the ministry's commitment to students and education in general," a ministry source told reporters. "BMWs should be a great motivation for people working in the field."
Social media comment varied, with some posters applauding any attempt to attract ambitious people to the relatively poorly-paid teaching profession, while others questioned whether teachers would be better motivated by cash and status goods or rather by investment in the troubled education system. And one poster was not alone in pointing out that, because Saudi Arabia's conservative interpretation of Islam does not allow women to drive, "This is a great incentive, except that female teachers who win the award won't even be able to drive their car!"
Use #NewsfromElsewhere to stay up-to-date with our reports via Twitter.