Yemen: Graffiti campaign to end violence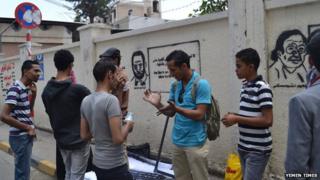 Two friends in Yemen have launched a graffiti campaign against ongoing violence in the country, it's reported.
The IT students from Sanaa University draw portraits of famous intellectuals and authors alongside inspirational quotes from their works and speeches, the Yemen Times newspaper reports. Tamam Al-Shaibani and Muhammad Al-Sharie call their campaign "Open Book", with walls in the country's capital, Sanaa, being the book's pages.
As violence continues following the 2011 pro-democracy uprising, Mr Al-Shaibani is concerned that Yemenis are becoming "increasingly ruthless", and see the use of weapons as the right way of achieving their goals, the paper says.
Believing in the power of words, Mr Al-Shaibani takes his inspiration from people like Indian independence leader Mahatma Gandhi and former Egyptian President Gamal Abdel Nasser. Both men's portraits now adorn the walls of Sanaa. "I want to use their words again in an attempt to change peoples' beliefs and thoughts in Yemen," he says. He hopes that the quotes will "stop people from engaging in any wrongdoing".
The two friends' campaign is also inspired by the work of another activist, Morad Sobai, the Yemen Times says. In 2012, he drew on the city's walls more than 60 portraits of Yemenis who disappeared between the 1970s and 1990s, allegedly after being detained by government forces.
Use #NewsfromElsewhere to stay up-to-date with our reports via Twitter.