Chechnya: Leader's horses 'targeted by sanctions'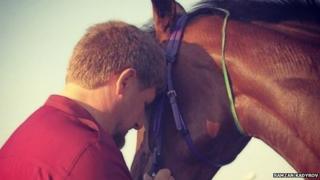 Chechnya's leader has demanded an apology from Germany, after EU sanctions targeted two of his racehorses, it's reported.
Thousands of euros in prize money won by Ramzan Kadyrov's stallion Zazu at races in Dusseldorf and Baden Baden have been frozen by authorities there, according to Russia's Regnum news agency. As well losing his winnings, both Zazu and his stablemate Dashing Home are banned from competing until sanctions against the Chechen leader are lifted, the Russia Today website reports.
Mr Kadyrov, a horse racing enthusiast, says the incident could become "a new shameful page in German history". Lamenting the situation on his Instagram account, alongside a photo of him nuzzling a horse, he says the German authorities have deprived his racehorses of prizes "won through hard labour and fast hooves". Zazu is being punished with sanctions as if he is a human being, and is gradually losing his racing skills by being sidelined, Mr Kadyrov writes. As well as apologising to his own racehorses and "all herds of horses worldwide", he wants Germany to provide millions in compensation for the "moral damage to the stallions and for discriminating against them".
The EU imposed sanctions on Mr Kadyrov and several other Russian officials in July. The Chechen leader responded with his own sanctions list, and put US President Barack Obama and EU leaders on it.
Use #NewsfromElsewhere to stay up-to-date with our reports via Twitter.