Russia: Activist calls for Halloween ban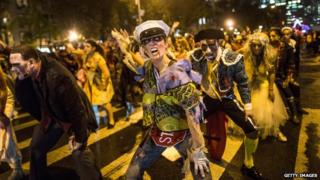 A Russian political activist has called on the government to ban public celebrations of Halloween, as part of a campaign against American influence.
Georgy Federov, a member of the Civic Chamber parliamentary scrutiny body, says people across the country have complained to him about "drunk youngsters dressed as corpses and monsters scaring decent members of the public on the streets". Celebrations in night clubs often "degenerate into orgies", he adds in a letter to Culture Minister Vladimir Medinsky, according to Izvestia newspaper. Referring to current "strained relations with the US", he says Halloween has been imposed on Russians and is foreign to their cultural traditions. "Some extremists use these 'holidays' for propaganda purposes... You need to launch counter-propaganda. We have our own traditional festivals, which at least do not run contrary to religious ethics and human morality," he says. Mr Federov suggests authorities could offer venues financial incentives "to stop decking themselves out with pumpkins and sham corpses".
A ministry spokesman says they have not yet received Mr Federov's letter, and notes that Halloween is usually marked in cafes and restaurants, which lie beyond the ministerial remit. "We have no plans to celebrate Halloween in theatres, concert halls or libraries," he tells Izvestia. Social media comment ranges as usual from support to mockery of the proposal, with one Izvestia reader suggesting a compromise called "Hangovereen - our own holiday when your pumpkinheads ache."
Use #NewsfromElsewhere to stay up-to-date with our reports via Twitter.