South Africa: Gambling board 'blew cash on Vegas trip'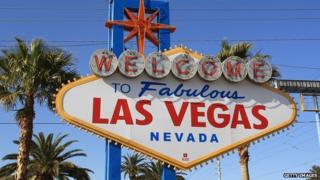 South Africa's gambling board has been suspended for seemingly overspending on foreign travel, including a trip to Las Vegas, it's reported.
The board spent 4.1 million rand ($374,000; £233,000) on trips abroad in three years, including visits to Turkey, Singapore and France, the Times Live website reports. The biggest chunk of cash was spent on flying seven of its members to a Las Vegas gaming conference in 2011, at a cost of more than 936,000 rand ($85,000; £53,000), according to South Africa's trade and industry minister, Rob Davies.
The board members' spending habits came to light after a parliamentary question on the details surrounding their suspension, which happened in September. They have allegedly contravened the Public Finance Management Act by "failing to prevent irregular, fruitless and wasteful expenditure," the website reports. Aside from regulating the gambling industry, South Africa's National Gambling Board exists to "to preserve the integrity of South Africa as a responsible global citizen," according to its website.
Use #NewsfromElsewhere to stay up-to-date with our reports via Twitter.