Malaysia: Halloween 'banned' by Islamic authority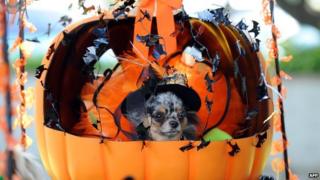 Muslims in Malaysia should not celebrate Halloween, the country's National Fatwa Council has announced.
The council, one of Malaysia's highest Islamic bodies, says Halloween is a Christian celebration of the dead and "against Islamic teachings", in a fatwa issued on its website. "Halloween is celebrated using a humorous theme mixed with horror to entertain and resist the spirit of death that influences humans... It cannot be celebrated by Muslims," it says. Instead, the council advises Muslims to remember the dead by reciting prayers and reading the Koran. There are concerns among some Muslim groups in the country that Halloween is too Western and "could wrongly influence local Muslim youths," the Malay Mail website reports. In Negeri Sembilan, western Malaysia, an international primary school has been told it must apply to the local education department to get approval for its private Halloween party, after a protest by Muslim groups, according to Free Malaysia Today.
Earlier this month the National Fatwa Council ruled that touching dogs is un-Islamic, in response to an event called "I want to touch a dog", in Bandar Utama. The event gave Muslims a chance to stroke dogs, an act traditionally seen as unclean. People who took part in the event followed religious cleansing rituals after being in contact with the dogs, Channel News Asia website reports.
Use #NewsfromElsewhere to stay up-to-date with our reports via Twitter.