Russia: Mario replaces Crimea on Moscow murals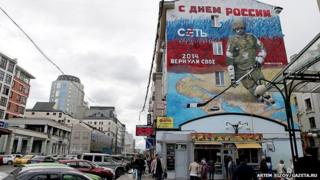 Massive murals celebrating Russia's annexation of Crimea are disappearing from buildings in Moscow, with one being replaced by the video-game character Mario.
The mural, painted incongruously on a stately 19th century residential building on historic Novoslobodskaya Street, showed a Russian soldier playing hockey with Crimea, under the slogan "Happy Russia Day. 2014: we took back what was ours". But it has now made way for Nintendo's Mario declaring "Reach for the stars", the Gazeta.ru website reports.
The murals are the work of Art-Facade, a project run by pro-government youth groups. Their coordinator, Alexander Diaghilev, tells Gazeta.ru the aim was to promote young artists through a competition called "2,000 Homes for Russia". Launched in March, it promised participants the chance to showcase large-scale works in Moscow and St Petersburg. The only problem, as Mr Diaghilev acknowledges, was that the Novoslobodskaya Street residents weren't asked whether they wanted their building turned into a patriotic fresco. They didn't, and asked Art-Facade to "paint it over with something benevolent". This resulted in the Mario mural.
Mr Diaghilev is now promising a whole new series of murals next year, to mark the 70th anniversary of the Second World War. "We're talking about images of Soviet liberator-troops, and perhaps the Soviet flag over the Reichstag, the Kremlin victory parade, planes, tanks, and wartime posters," he tells the Moskovsky Komsomolets newspaper.
Use #NewsfromElsewhere to stay up-to-date with our reports via Twitter.