New Zealand: 'Fake forgeries' to be auctioned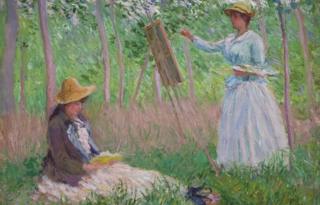 A New Zealand auction house has decided to put two "fake forgeries" under the hammer, it's been reported.
The oil paintings, imitations of Claude Monet's At Giverny and In the Woods at Giverny, were initially thought to be the work of renowned forger Elmyr de Hory. But they actually turned out to be "fake fakes", the New Zealand Herald website reports. Auckland auction house Cordy's was contacted last month by a de Hory expert, Mark Forgy, who said they had really been painted by London bookmaker Ken Talbot. Both paintings were promptly removed from sale.
The idea of someone faking de Hory's own forgeries "came up only one time" in conversation with the artist, Mr Forgy says. "We both contemplated that for a moment and then laughed at the far-fetched notion." The two paintings are now being advertised as "Fakes of fake Claude Monet", the website reports. "We were astonished to find that there was a market in faking faker's art works," says auctioneer Andrew Grigg. He says they will now alert others in the business to be aware of the con.
Hungarian-born Elmyr De Hory was considered a master forger, after reportedly selling more than 1,000 fake pieces to galleries and collectors around the world, including imitation Monet, Picasso, and Cezanne paintings
Use #NewsfromElsewhere to stay up-to-date with our reports via Twitter.