Turkey: Man rows for three months in nuclear protest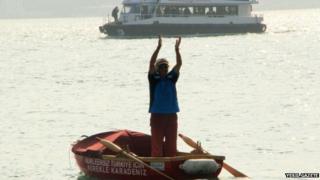 A man has rowed almost the entire length of Turkey's Black Sea coastline, in protest at plans for the country's first nuclear power station.
Huseyin Urkmez spent three months rowing the 1,500km (930 miles) from Hopa, near Turkey's eastern border, to the port of Ortakoy in Istanbul, the Yesil Gazete website reports. He was greeted by the cheers of environmental activists after his mammoth journey, which he undertook in a standard rowing boat, the website says. Mr Urkmez describes his feat as a "symbolic demonstration" against nuclear power plants in the country, the Hurriyet Daily News website reports. "I wanted to draw attention to demands for a nuclear-free country only through my physical strength. If there is one thing as difficult as rowing against the current, it is challenging the government's calculations," he says.
Turkey's first nuclear plant will be built near the southern town of Akkuyu, on the country's Mediterranean coast, and is expected to be fully operational by 2023. It will be built and run by the Russian state company Rosatom. But there are also plans for two more plants, including one on the Black Sea near the city of Sinop.
Use #NewsfromElsewhere to stay up-to-date with our reports via Twitter.