Egypt: Man's 'drugs test trick' foiled by pregnancy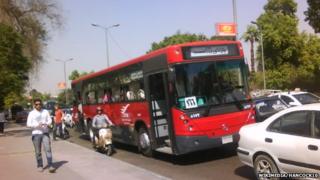 An Egyptian bus driver who tried to avoid a drugs test by using his wife's urine has been busted after it turned out his wife was pregnant, it's reported.
The man had been selected for a standard drugs test along with other public bus drivers, but did not submit his own urine sample, instead using his wife's, the Al-Yawm al-Sabi website reports. What he didn't know was that his wife was two months pregnant. Before revealing the news, officials asked the driver to confirm the sample was in fact his own, according to Tamer Amin, a presenter on the political talk show Bottom Line. After the driver said it was, the officials reportedly responded: "Congratulations, you're pregnant."
"This story despite being funny has several lessons," Mr Amin says. "First, that drugs have become available to many and have become as common as cigarettes. This is a calamity." In future, the transport authority will require a blood test as well as urine tests to prevent people giving fake samples, a source at the Public Transportation Authority Hospital tells Al-Yawm al-Sabi.
About 12,000 people are killed on Egypt's roads each year, a rate of 42 deaths per 100,000 people, according to the World Health Organisation. Drug use has also been on the rise in recent years, with the painkiller tramadol proving particularly popular as a cheap - but addictive - energy booster.
Use #NewsfromElsewhere to stay up-to-date with our reports via Twitter.