India: Tourists' hot air balloon ride 'lands in jail'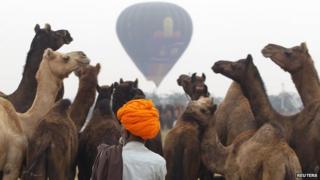 An Indian hot air balloon ride has landed two tourists in jail, after it was blown off course and drifted into the grounds of a high-security prison, it's reported.
The two women were visiting the annual Pushkar Camel Fair, in the western state of Rajasthan, when they decided to get a bird's eye view of the event. But their balloon ride came to an abrupt end when strong winds caused the operator to bring it down on the football field of nearby Ajmer central jail, the NDTV website reports. The balloon's occupants were subsequently detained for two hours while officials established whether it was an accident or a rather brazen jail-break. "Prisoners were in the barracks at the time, but the landing caused a security alarm, sending jail officials into a tizzy," the report says.
Local authorities have reacted to the mishap by removing the balloon company's licence and cancelling balloon rides over the area, while it investigates the "unlawful entry" at the prison. NDTV says the tourists decided on a less high-risk activity the following day, opting for an elephant ride.
Use #NewsfromElsewhere to stay up-to-date with our reports via Twitter.