Cuba: Viewers enthralled by South Korean soap operas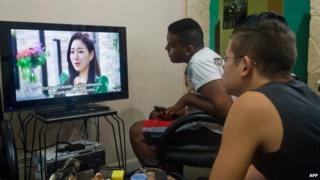 Soap operas from South Korea have found an unlikely audience among Cubans, it's been reported.
The popular show Jewel in the Palace is the newest import on Cuban television, continuing the "implausible" success of Korean soaps in the country, the Chosun Ilbo website reports. Cultural differences seem to be part of the appeal for Cubans accustomed to watching dramatic Brazilian soaps. "The leisurely pace and somewhat stationary acting of the Korean fare apparently contrasts pleasantly with the endless high-octane histrionics of Latin American telenovelas," the website says. Jewel in the Palace tells the story of an orphaned female cook who defies the odds to become the first woman to serve as the king's personal physician.
The first Korean soap to be shown in Cuba, Queen of Housewives, started broadcasting last year. It tells the story of a glamorous, strong-minded housewife, and even has a famous fan: Alex Castro, son of Cuba's former leader Fidel, admits he watches it with his wife, Chosun Ilbo adds. The soaps' success in the Caribbean is in stark contrast to the reaction in neighbouring North Korea. In October it was reported that 10 Workers' Party officials had been executed for watching South Korean soaps. The executions were not officially confirmed by North Korea.
Use #NewsfromElsewhere to stay up-to-date with our reports via Twitter.