Russia: Metro managers 'must take underground to work'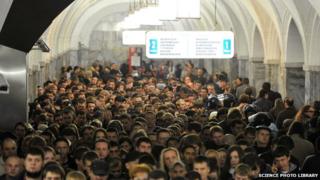 Senior officials working for Moscow's metro system have been told they must use the network to get to work.
Dmitry Pegov, head of the city's metro, has signed an order obliging his own deputies and heads of departments to use the underground to reach the office "just like ordinary passengers", the state-owned TASS news agency reports. "One should personally see and understand what is going on in the department that they oversee, how the work is being conducted, and what should be improved or changed," Mr Pegov says. "I go to work on the metro, every day I get down to the station and travel for nearly 35 minutes, and even have to change lines," he tells the agency. One of the perks of his job means Mr Pegov could travel up front with the driver, but he says he prefers to be in the carriage with the masses.
Reaction to the decision on Twitter is mixed. "Not everything is bad in Russia," one user writes. But another person seems to sarcastically hint at poor service during peak times. "It would be better if it was written on their backs that these are managers. We will then be able to express our gratitude to them on-the-spot during rush hour," Andrei Bogomolov says.
Moscow's metro is one of the busiest in the world, with 195 stations serving more than nine million passengers on weekdays. A recent survey put customer satisfaction with its service at 55%, according to its own public relations department.
Use #NewsfromElsewhere to stay up-to-date with our reports via Twitter.