UAE: Dubai's new trams bring huge traffic fines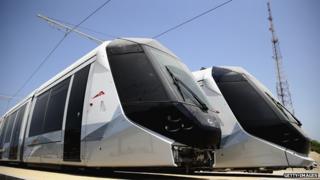 More than 150 police officers and 64 speed cameras will be trying to keep trams and cars apart when Dubai's new tram system goes into operation, it's been reported.
The 10.6km, 14-station network is opening to the public on 12 November with a warning that drivers could be fined up to 30,000 dirham ($8,160; £5150), on top of other prosecutions, if they cause a fatal crash at one of the 30 junctions with the tram line, The National reports. Pedestrians and cyclists are also being warned over their behaviour near the tracks, with the Roads and Transport Authority (RTA) saying that crossing the tram line outside designated areas will set you back 1,000 dirhams ($270; £170). Littering will also be met with a fine. "Do not enter prohibited areas... as the tram cannot swerve to avoid you," the RTA's Maitha bin Udai says.
Dubai's trams will be gender segregated, with two cabins set aside for women and children, and a further car for "gold class" passengers, according to the Gulf News website. The operators expect 27,000 people to use the line each day. "I'm definitely going to use the tram as often as I can. It's better than being stuck in traffic," prospective commuter Mary Sabra tells the Khaleej Times. But praise for the system isn't universal. One resident tells The National that they think "the tram doesn't really go to many places" and probably won't do much to ease traffic jams.
Use #NewsfromElsewhere to stay up-to-date with our reports via Twitter.