Qatar: Huge sums offered for 'fancy' number plates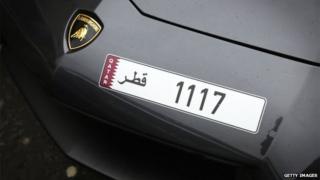 Vast sums of money have been offered for personalised car number plates in Qatar, it's reported.
An online auction being run by the traffic department has seen one person bid a whopping 200 million riyals ($55m; £35m) for what's described as a "fancy number plate", the Doha News website reports. The plate in question simply reads: 333355. The Interior Ministry announced the auction of the plates in a tweet on 9 November. There are 19 on offer in total, all of them starting with the number three. Shelling out for memorable number plates or phone numbers is common in the Gulf, particularly where repeated numbers or a date of birth are involved, according to the website.
Earlier this year a "heated bidding war" took place in the United Arab Emirates for a phone number, The National reported in March. Sixty people battled it out for the number - 777 7777 - which eventually went for 7.9 million dirham ($2.2m; £1.4m) during a charity auction. In 2012 a man told The Peninsula website that such was the appeal of having an easy to remember number plate or phone number, some people were taking out loans to cover the cost. But bidders in the Qatari auction need to be sure their finances are in order. Anyone who wins the auction but fails to pay up within two days will be given a hefty fine, and be stripped of their cherished plate.
Use #NewsfromElsewhere to stay up-to-date with our reports via Twitter.