Iran: Rising fuel prices 'prompt donkey trade boom'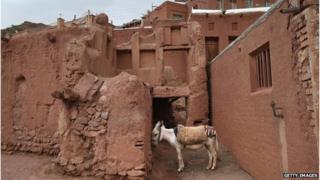 The rising cost of fuel in Iran is benefitting the country's donkey population, it's reported.
Many villagers and farmers are shunning their vehicles as fuel prices continue to go up, prompting the sale of donkeys to increase as winter approaches, the Khorad News website reports. "The rising price of petrol and diesel is the reason why Iranian villagers are starting, once again, to use donkeys," the website says. The donkey boom has been particularly apparent in the mountainous regions of north-west Iran, but they're also being used in some cities, according to the Eghtesad News website. It's considered good news for the animals, who were previously often abandoned before the winter because their owners couldn't afford the cost of feeding them. "In the past, before winter, some villagers released their donkeys into the wild where they would die", the website says.
In April, Iran cut state fuel subsidies in an effort to strengthen its economy. But the move hit consumers hard, with petrol prices rising by up to 75% overnight. Iranians have also had to deal with rising water and electricity bills this year.
Use #NewsfromElsewhere to stay up-to-date with our reports via Twitter.