Canada: Remembrance Day parade 'impostor' charged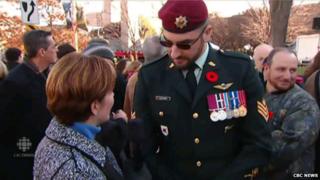 A man who presented himself as a much-decorated soldier during a Remembrance Day parade in Canada has been accused of being an impostor.
Eagle-eyed viewers called CBC News after they saw Franck Gervais giving an interview to the channel during the commemorative event in Ottawa. Veterans said Mr Gervais, who presented himself as a sergeant, could not possibly be a serving member of the armed forces, because his beard did not conform with the Canadian army's policy on facial hair. Others noted that he was wearing incorrect uniform and was completely unknown to other paratroopers. In a statement, CBC said that he appeared to be an authentic soldier to civilian eyes, but they had "since learned that he was not, that his uniform was not correct, and that he was wearing medals he had not earned". Ottawa's police department have now charged Mr Gervais with four counts, including falsely representing himself as a public officer and unlawful use of military decorations, but he could face even more charges, the CTV News website reports. "There are a lot of military and officers nationally that are very unimpressed with his actions that day," says police spokesman Chuck Benoit.
The practice of impersonating members of the armed forces - known as "Walting" by British troops after the serial fantasist Walter Mitty - is particularly disliked by serving soldiers and veterans alike, especially if the person involved wears medals and insignia they haven't earned. But a CBC report suggests the motivation for these impostors is more about getting an ego boost, rather than stealing the glory of others.
Use #NewsfromElsewhere to stay up-to-date with our reports via Twitter.