Russia: 'Police reindeer' considered for Arctic region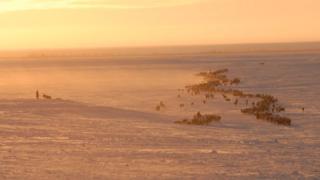 Reindeer could soon be patrolling alongside police officers in Russia's far north, it's been reported.
The move is being considered in the Yamalo-Nenets region of northwest Siberia, as a way to help police maintain law and order in the difficult terrain, the Izvestia newspaper reports. The region is in Russia's Arctic tundra, where the land is almost always frozen. While the local police are equipped with snowmobiles, it seems furry transportation can sometimes be more reliable. "Of course we have snowmobiles in service, but one should understand that a machine is a machine," Irina Pimkina from the region's Interior Ministry tells the paper. "A snowmobile can break down or get stuck in the tundra, but the deer will run at all times." Police sometimes struggle to locate suspects who escape into the tundra using their own reindeer, a source tells Izvestia, and officers can also find it difficult to transport people back to the police station. It's hoped the reindeer would make matters easier.
Russia's Defence Ministry already has about 150 donkeys and mules serving in special mountain brigades, and has legislation in place to allow reindeer to be added to the mix. According to the Russia Today website, they would have company over the border in Finland, where police use the animals to - appropriately - patrol the forests of Lapland.
Use #NewsfromElsewhere to stay up-to-date with our reports via Twitter.