China: Keep using 'comrade', says Communist Party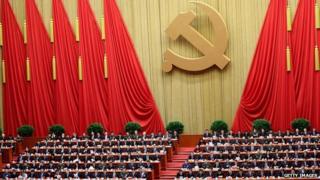 Communist Party members in China must keep calling each other "comrade", the party's leadership has ruled.
The party has halved the number of regulations governing how it's run after reviewing more than 1,000 documents over two years, according to state news agency Xinhua. But while the rules blitz has abolished regulations considered outdated or obsolete, using the term "comrade" to refer to fellow members of the party is still deemed necessary, the South China Morning Post website reports. The rule has been in place since 1965, when the party leadership declared that hierarchical titles were a "decadent practice of the old society", the website notes. The term is widely used by communist parties around the world because it's seen as embodying equality. In Cuba, even former President Fidel Castro published his regular newspaper column under the title "Reflections by Comrade Fidel".
Members of China's Communist Party don't have many options left when greeting their colleagues. Earlier this year the party's disciplinary committee in southern Guangdong province banned its members from referring to each other as "boss" or "bro" because the terms were "wrecking inner-party democracy and damaging the image of public servants."
Use #NewsfromElsewhere to stay up-to-date with our reports via Twitter.