Singapore: Students' anti-smartphone app wins prize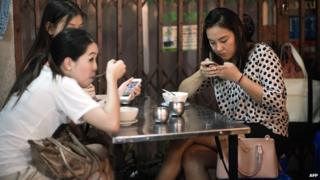 Three students in Singapore have won funding to develop an app which encourages people to stop using their smartphones, it's reported.
The app, called Apple Tree, is designed to make people spend time talking face-to-face with family and friends, instead of being glued to their screens, The Straits Times website reports. It works by immobilising users' phones when two or more friends put their handsets together. If a phone remains untouched, an apple tree begins to grow on the screen, furnishing the user with digital fruit. Those apples provide the incentive behind the app, as they can be "harvested" and exchanged for rewards, Channel News Asia says. The longer the phone is ignored in favour of human contact, the more bountiful the apple harvest.
The group entered the app into the annual Splash Awards, where the theme was "Bringing Singaporeans Closer Together". One of the students, Libern Lin, says the idea came after his friends suggested putting all their smartphones in one place when they socialised, Channel News Asia reports. It proved to be a lucrative suggestion; the group has been awarded S$30,000 (US$24,000; £14,800) to develop the app in time for March 2015, when it will be released for free as part of Singapore's 50th birthday celebrations.
Use #NewsfromElsewhere to stay up-to-date with our reports via Twitter.