Nauru: Visa price hike 'deters foreign journalists'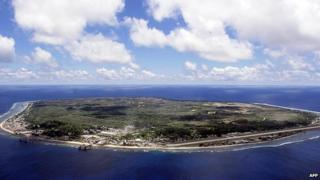 No foreign reporters have applied to enter the Pacific island of Nauru this year, after it increased its visa fee by nearly 4,000%, it's reported.
The country's government says there haven't been any requests for its journalist visa, which now costs more than $7,000 (£4,470), according to Radio New Zealand. The fee is just for applying, and isn't refunded if the application is unsuccessful. Last year the visa application cost $200 (£128). The price hike came into effect in January, and was criticised at the time as an attempt to ban foreign media from visiting the island. Nauru hosts a controversial detention camp for asylum seekers who have tried to reach Australia by boat. In October, Australia ordered an inquiry into claims that people had been abused in the camps.
Nauru's government says the fee was increased for revenue reasons. But in February, Home Affairs Minister Charmaine Scotty said the foreign media were giving Nauru a bad name over the detention camp. "With all the bad press that they come and do, we have extra hard problems in regards to the local community and the visitors that are called transferees," she was quoted as saying at the time.
Use #NewsfromElsewhere to stay up-to-date with our reports via Twitter.