Balkans: Serbia v Albania match inspires Android game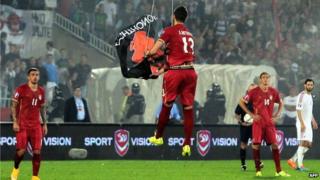 An Android game based on the recent chaotic Serbia versus Albania football match is dividing opinion in the two countries, it's reported.
The game, called Autochthonous, is inspired the teams' Euro 2016 qualifying match on 14 October, which was abandoned after a drone carried a nationalist Albanian banner over the pitch. Serbian player Stefan Mitrovic pulled the flag down, and violent clashes ensued between both players and fans. In the game, a player has to keep a banner-carrying drone in the air as it flies over a football stadium, while a footballer on the ground tries to grab it, the Balkan Insight website reports. A point is awarded if the footballer jumps but can't reach the banner.
Autochthonous - meaning indigenous - takes its name from the phrase emblazoned on the real-life banner. It's proved popular with Albanian users, but has upset some Serbs who say it's offensive and shouldn't have been released by the Google Play store, the website reports. The game's developer is Macedonian, and doesn't think it's offensive. "It's a harsh metaphor for what happened in Belgrade, which includes all sides, the Albanian national team, the Serbs and UEFA," Yusuf Aliya tells the website. "If the game continues to be interpreted politically and worst, if it sows ethnic hatred, it will be removed," he says. "Football is a game, which should be played and not fought. Just like my game."
Use #NewsfromElsewhere to stay up-to-date with our reports via Twitter.