Georgia: Wheelchair protest over parking spaces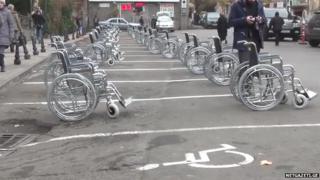 A non-profit organisation in Georgia has staged a novel protest against drivers who park their cars in spaces reserved for disabled people.
The group, called Tree of Life, took to the streets of the capital Tbilisi and blocked off parking spaces outside the city's Rustaveli metro station using dozens of wheelchairs, the Netgazeti news website reports. Organisers left only one space untouched: the sole bay reserved for people with disabilities. Photos of the protest went viral in Georgian social media, where users have often complained of drivers disregarding reserved spaces. But the protest, which comes ahead of the United Nations Day of Persons with Disabilities on 3 December, left some drivers unimpressed. "Many people tried to stop and they wanted to move the wheelchairs away so they could park in these places," Tree of Life director Tornike Guruli tells Netgazeti. "They are trying to occupy the spaces at any cost."
But the campaign gets the thumbs-up from several locals, who say the problem is common in Georgia. "This problem indeed is real," passer-by Avto Mamalashvili says. "I often see that cars stop in places designated for disabled people. There are some who don't, but many do". Another observer describes the campaign as "very cool". Vakho Kareli tells Netgazeti that he stopped by specially on his way home to "thank the organisers personally for highlighting this problem."
Use #NewsfromElsewhere to stay up-to-date with our reports via Twitter.