Mexico: Amnesty for children's toy weapons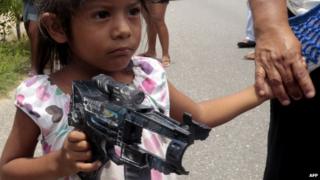 Children in a violence-scarred province of Mexico are turning in toy weapons for more non-violent types of toys, it's reported.
A few thousand children exchanged toy swords, rifles and even real knives for football and basketball equipment, in a government campaign, The News website reports. A local official in the state of Nuevo Leon, Patricia Salazar Marroquin, says it will help promote a culture of peace and teach kids about the negative symbolism of violent toys. "These actions remove the incentive for the use of violent games and promote family time," Salazar Marroquin says. Yo-yos, jacks, spinning tops and Lego are being given out to promote learning.
One of Mexico's wealthiest cities, Monterrey has been plagued in recent years by drug-related violence. Shootouts, robberies and extortion hit a spike after a local leader of the notorious Zetas organized crime group was detained in 2010. In Mexico City two years ago, real guns were swapped for children's toys and cash in another scheme to try to curb violence.
Use #NewsfromElsewhere to stay up-to-date with our reports via Twitter.