Israel: Arabs in 'second class citizen' campaign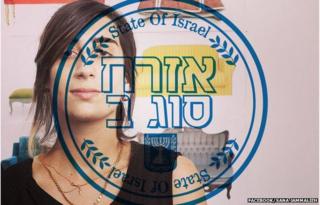 Hundreds of Israeli Arabs have stamped their Facebook profile pictures with a "second class citizen" passport stamp, to protest at the country's proposed Jewish nation-state law, it's reported.
The protest was started by graphic designer Sana Jammalieh, who works in the northern Israeli city of Haifa, Haaretz reports. She changed her own photo in opposition to a bill which would officially grant national rights only to Jews in Israel. The bill is strongly supported by Prime Minister Benjamin Netanyahu, who emphasises that it would still grant individual rights to non-Jews. Arabs comprise about 20% of Israel's population and have long complained of social, legal and institutional discrimination. Ms Jammalieh, who defines herself as a Palestinian citizen of Israel, has been inundated with requests from other people to have the stamp, designed with her business partner Haitham Charles, added to their own Facebook pictures. But she doesn't think the protest will necessarily have much effect. "What's new here? We were never first-class citizens. At least now you have said it out loud," she tells Haaretz. "I prefer that they tell us directly and not pretend we live in a democratic country," she says.
Student Hanin Majadli, who also changed her profile picture, describes the bill as "contemptuous" and tells The Times of Israel that a Facebook campaign could garner media attention, which might influence politicians. "It's a brilliant campagn. It's dramatic, it's in your face, it's provocative in a good sense," she says. "It's better than just having members of Knesset talk on the podium all day."
Use #NewsfromElsewhere to stay up-to-date with our reports via Twitter.