Hong Kong: Lawmakers abandon smoking spot over insults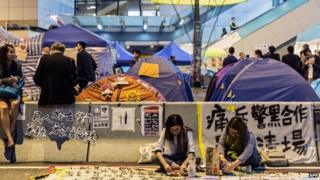 Popping out for a cigarette break is a necessity for many office workers, including members of Hong Kong's Legislative Council.
But recent pro-democracy protests in the city have left some politicians with a dilemma: where to smoke in peace? Lawmakers who are considered "pro-establishment" have been forced to abandon their regular smoking spot, just outside the entrance of the Legislative Council building, after Occupy Central demonstrators set up camp there and hurled insults at them, the South China Morning Post reports. Thousands of people have been occupying the streets of central Hong Kong since September, in protest at restrictions on who can stand for election as the region's leader in 2017.
Now the council's smokers have found a new spot, which the paper describes as "a quiet corner outside the car park". "When I smoke there, I won't be insulted," says Wong Ting-kwong, of the Democratic Alliance for the Betterment and Progress of Hong Kong. Smokers from the pro-democracy factions have been able to stay put and light up free from insults, he points out. But not everyone is a fan of the new car park hangout. Mr Wong says one colleague prefers to walk a little further to the more scenic setting of Fenwick Pier.
Use #NewsfromElsewhere to stay up-to-date with our reports via Twitter.