Russia: Prostitutes hike prices as rouble falls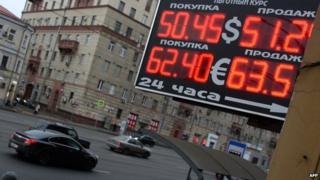 Prostitutes in the Russian Arctic port of Murmansk have unexpectedly hiked prices for their services by up to 40%, blaming the tumbling rouble exchange rate for their decision, it seems.
They also want to peg the cost of services to the dollar in the longer term if the situation doesn't improve, sources at one brothel tell the local FlashNord news agency. Two hours with a prostitute in Murmansk cost 3,000-7,000 roubles ($57-132; £36-84) before the price rise, the agency says. The management of another brothel says it's "trying to keep prices down, but the cost of living is rising and the girls can't work at a loss". The rouble has lost more than 40% of its value against the dollar and 60% against the euro since the start of the year, as a result of Western sanctions over Russia's involvement in the eastern Ukraine insurgency and a fall in oil prices.
Russian social media commentators are having a field day over the news, with some getting in digs at the authorities. "Putin - learn about the economy from the Murmansk prostitutes", tweets Andrei Negotov. Others, including Alexander Sitnikov on the NTV website, think the prostitutes should show some patriotism and "raise their rates for foreigners, in reply to sanctions".
Use #NewsfromElsewhere to stay up-to-date with our reports via Twitter.