South Korea: Contraception poster prompts outcry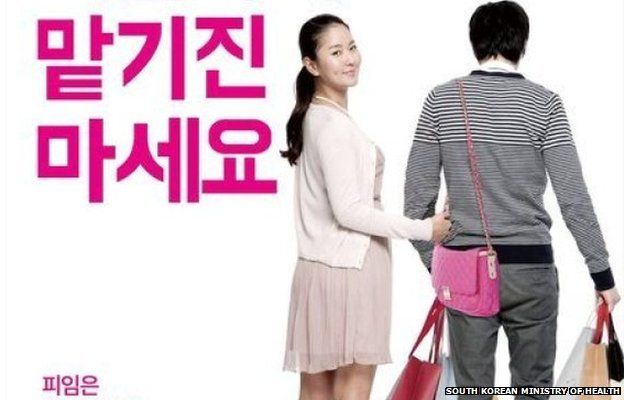 South Korea's government is under fire for a poster promoting contraception use which has been criticised by both men and women, it's reported.
The Ministry of Health and Welfare poster was meant to encourage women to "take responsibility" for using birth control in order to prevent abortions, the Korea Times website reports. It shows a young couple, after what appears to be a successful shopping trip, with the man carrying his partner's pink handbag and clutching several bags. The poster reads: "Although you leave everything to men, don't leave the responsibility for contraception to them." There was a swift backlash from social media users, with women complaining it makes them look helpless. One woman wrote: "Why do we have to be seen as so selfish and dependent?" Men were no happier, with some offended by the depiction of a man "doing chores" for a woman, like carrying her bags, and others unhappy at being painted as unreliable in the contraception department, the website reports.
The criticism was heard loud and clear in the Health Ministry, which took the poster off its social media sites. "The public responses have gone against our original intention to prevent abortion by encouraging adults to actively use contraception," says a ministry official. In November, South Korea's Labour Ministry was criticised after issuing interview tips for women which many people considered sexist. Guidelines issued online had suggested women should tell interviewers they don't mind "casual jokes about sex". That post was also deleted after complaints.
Use #NewsfromElsewhere to stay up-to-date with our reports via Twitter.