Japan: Tsunami survivors need 'uplifting letters'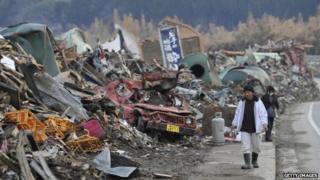 A group in Japan has called for children in other countries to send letters to people who are still suffering from the effects of the country's 2011 earthquake and tsunami, it's reported.
Yukitaka Uritani, who organises the Genki Mail project, says survivors of the disaster still need words of strength and inspiration. He has been collecting heartening - or "genki" - letters written by schoolchildren in countries as far afield as the United States, France, and Mongolia since the disaster, a Kyodo news agency report published in The Bangkok Post says. Thousands of letters, translated by Japanese university students, were sent to shelters the north-eastern Tohoku region in 2011 and 2012, but the number dropped to about 200 in 2013.
Mr Uritani, who was himself a survivor of the 1995 Kobe earthquake, was "saved" from committing suicide in the immediate aftermath by dozens of encouraging faxes sent to him from Mongolia and China, he told Wochi Kochi magazine in 2011. Today, he says he wants to convey to the tsunami victims that "people around the world are concerned about you, you are not alone."
Use #NewsfromElsewhere to stay up-to-date with our reports via Twitter.