Russia: Christmas tree's 'EU food decorations' looted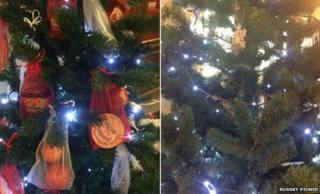 A Christmas tree decorated with foreign food treats which are subject to a Russian import ban has been stripped bare, it's been reported.
Spanish mandarins, Polish apples and delicacies including prosciutto and foie gras were turned into Christmas ornaments by staff from the Russky Pioner magazine, and hung on a tree in Moscow's GUM department store. But now its tasty decorations have been stolen. "We found the tree almost bare," says editor-in-chief Andrey Kolesnikov on the magazine's website. "We gave the best of what we still had to our Christmas tree," he says, describing the theft as "cruel" and "barbaric". In August, Russian Prime Minister Dmitry Medvedev signed a decree banning the importation of numerous food products from the EU, US, Australia, Canada and Norway, in retaliation for sanctions imposed on Russia over its involvement in the Ukraine crisis.
"As a human I understand it. But it is inexcusable!" Mr Kolesnikov writes. "People, come to your senses! Will you soon start to eat each other?" But many people commenting on the magazine's Facebook page appear to be confused about the unconventional decorations. "Christmas trees in Russia are decorated strangely these days," says Tatyana Senkuvene. Another user suggests next time the food should be "nailed down", but adds that it would then probably "be taken away with the tree". Mr Kolesnikov says the magazine's staff will decorate the tree again, but they're not taking any chances. This time a CCTV camera will be installed nearby.
Use #NewsfromElsewhere to stay up-to-date with our reports via Twitter.