Kenya: Donkey protest in Nairobi's business district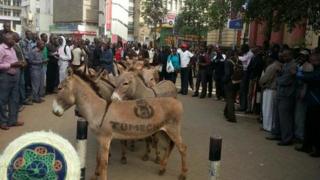 A herd of donkeys has been dumped in Nairobi's central business district in an apparent political protest, it's been reported.
Each of the animals was spray-painted with the word "tumechoka", which is Swahili for "we're fed up", The Standard news website reports. A lorry was seen depositing the herd in the centre of the Kenyan capital, with the driver saying he'd been paid to drop them off. It's thought the protest was against rising insecurity in the country, as the website notes the "tumechoka" slogan was used in a street protest against a brutal bus attack in northern Kenya in November. As the donkeys were unloaded from the lorry, one activist was heard shouting "we are tired of this leadership," The Standard says. The scene attracted a large crowd, according to the BBC's Robert Kiptoo in Nairobi. "Police had a hectic time trying to control the crowd, which had gathered in one of the streets to take a glimpse of the graffiti and take photographs," he says. The animals are now being looked after by an animal welfare organisation. "We have taken the donkeys to our Moroto offices and arrested some people who are suspected to be involved in the evil act," a police officer tells The Star newspaper.
Kenya's government is under pressure to prevent further violence after a string of deadly attacks by Al-Shabab militants in Kenya. The bus attack in the northern Mandera region left 28 people dead, after gunmen singled out non-Muslim passengers. In September 2013, militants attacked Nairobi's Westgate shopping centre, in a protracted siege during which at least 67 people were killed.
Use #NewsfromElsewhere to stay up-to-date with our reports via Twitter.