UAE: Embassy poem warns Brits over festive celebrations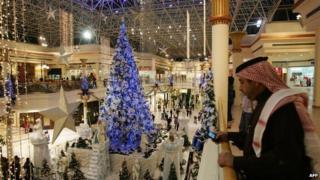 Brits spending Christmas in the United Arab Emirates are being warned to observe local customs, through a reworking of the poem 'Twas the Night Before Christmas.
The British embassies in Dubai and Abu Dhabi have adapted the poem, now titled 'Twas the Night Before Flying, to help expats and holidaymakers navigate Christmas celebrations in the Emirates without getting into trouble, the Gulf Today website reports. The original poem, published in the 1800s, tells the story of St Nicholas visiting a home to deliver Christmas presents. Where in the original not a creature was stirring, not even a mouse, the new version tells the tale of Stu Nicholas, who's "off to the Emirates, along with his spouse". He encounters customs troubles after packing banned medication, then has to face the potentially scandalous work Christmas party. "No holding of hands or Christmas kisses / Under the mistletoe despite amorous wishes," the poem reads. There's also a reminder of the potential perils of a Christmas tipple. "So time to go home after several spirits neat / But it's a crime for Stu to be drunk on the street," it warns.
"Christmas and the New Year in the UAE can be a lot of fun, but to avoid dampening the festivities, for ourselves and others, it's important to familiarise oneself with the UAE's laws and customs," says Consul General Edward Hobart. Happily for the poem's Mr Nicholas, he makes it safely home to bed: "No prison this time, just a sore head!"
Use #NewsfromElsewhere to stay up-to-date with our reports via Twitter.