US: Jewish group funds honeymoons to Israel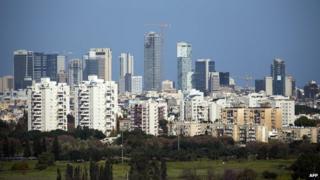 American honeymooners could be treated to trip to Israel, as long as one of them is Jewish, it's been reported.
It's part of an initiative by a US organization, Honeymoon Israel, which wants to encourage non-Jewish partners to engage with Israel and Judaism, the Israeli Ynetnews website reports. Couples have to pay $1,500 (£950) towards the cost of a nine-day honeymoon, but the rest - about $8,000 (£5080) - will be covered for them. The trip will include visits to Jerusalem and Tel Aviv, and couples will be guests of an Israeli family, the report says. The aim is to build a "personal connection to Israel and to Judaism," says co-founder Avi Rubel. To benefit, at least one member of the couple has to "identify as Jewish", and one must never have been to Israel before. The programme is also open to unmarried couples who live together, and lesbian and gay couples, the Honeymoon Israel website says.
"In many places in the US, 50 to 60% of Jewish couples are in mixed marriages. This is a way to bring the non-Jewish partner closer to Judaism," says Mr Rubel. It has been compared to the Birthright Israel organization, which provides free trips to Israel for young Jewish adults around the world. Honeymooners will start arriving in 2015, with groups of couples from the US cities of Los Angeles and Phoenix being the first to benefit. But the organisation says it's raised enough cash to fund the trips for the next three years. "As far as we are concerned, it is the Jewish people's gift to the couple," he says.
Use #NewsfromElsewhere to stay up-to-date with our reports via Twitter.