Turkey: First new church in 90 years approved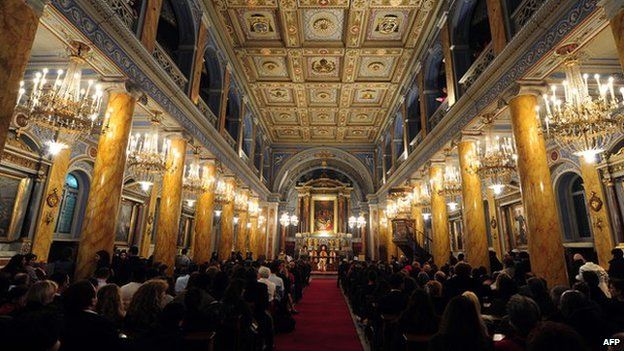 Turkey's government has approved plans to build the first new church in the country in more than 90 years, it's been reported.
The church will be built in the Yesilkoy suburb of Istanbul for the Syriac Christian community, the Daily Sabah website reports. Since the republic of Turkey was founded in 1923, no new churches have been permitted, although renovations to existing buildings have been allowed. The building will cost $1.5m ($980,000), with the money being provided by the Syriac community itself, according to the Daily Sabah. The state has granted the use of land currently within the boundaries of a Catholic cemetery. There are about 25,000 Syriac Christians in Turkey, with the majority living in Istanbul. While officially secular, 99% of Turkey's population is Muslim.
One opposition MP voiced scepticism over the plan, suggesting it could just be an election promise by the ruling Justice and Development Party (AKP). "The missionary activities in Turkey have increased during AKP rule. I don't know if there is a real need for a church or there is a political goal for the AKP behind this," Oktay Vural is quoted as saying on the Milliyet website. On Twitter, some users contrasted the decision with arson attacks on mosques in parts of Europe, most recently in Sweden, with one asking: "Do we have to build churches while they are burning mosques in Europe?"
Use #NewsfromElsewhere to stay up-to-date with our reports via Twitter.