Tonga: Sea turns red due to algal bloom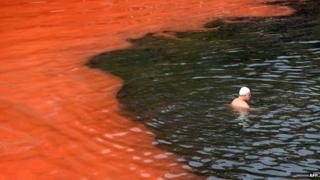 Residents in Tonga who were alarmed when the sea turned red have been given an explanation, it's reported.
Locals in the Pacific island's Vava'u district were baffled by the sea's colour change at the end of December, with some imagining it was a biblical sign the world was ending, according to the New Zealand Kaniva Pacific website. But an expert says the crimson tinge was caused by overgrown algae releasing toxic gases, Radio New Zealand International reports. The toxins can kill aquatic organisms and create a nasty smell, says Vailala Matato, a specialist in oceans and fisheries, adding that the process usually happens when the sea temperature rises.
Algal blooms, also called red tides, are a common sight in some parts of the world. On Florida's Gulf Coast they occur almost every year, and have been blamed for killing hundreds of manatees. In 2012, an algal bloom turned the sea around the Australian city of Sydney blood red. On that occasion experts said the algae were not particularly toxic to humans but could cause skin irritation.
Use #NewsfromElsewhere to stay up-to-date with our reports via Twitter.